ICS-SPK Replacement Water Filter for ICS-SP System
ICS-SPK
Treatment Included

S, Sediment P, PolyHalt K, Replacement Kit
Connection
Filter Size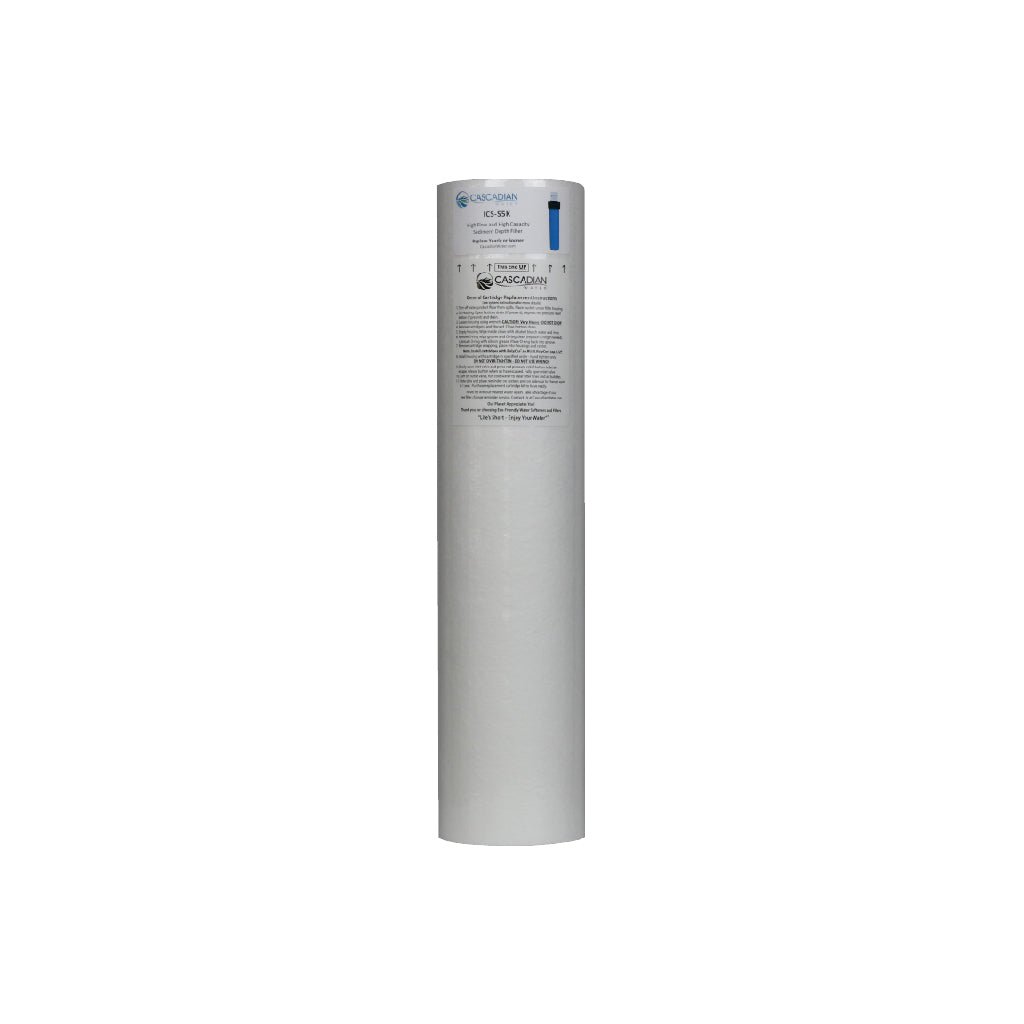 Product Details
Your Ideal Softener Filter Replacement Solution: The Cascadian ICS-SPK Kit
Looking to maintain the minerals in your water while eliminating the negative impacts of hard water? The Cascadian ICS-SPK cartridge filter replacement kit, a softener filter replacement designed for the Cascadian ICS-SP system is your ideal solution​.  It is an excellent choice for well water and can stand alone or be combined with existing treatment for improved performance.
Enjoy Two High Performance Treatments in one filter
The first treatment is a high capacity multimicron sediment filter. This filter removes particles down to 5 micron to clarify the water and protect downstream treatment and the plumbing, fixtures and appliances.
The second treatment is PolyHalt® media where the water is softened without salt and further conditioned to treat silica and blue copper staining which extends the life of plumbing, fixtures, appliances, windows and glassware etc., by protecting them from damage caused by untreated water.
A Commitment to Eco-Friendliness
Our ICS-SPK filter replacement kit is as kind to the environment as it is to your water. It's a no water waste solution, ensuring that every drop counts. Plus, it's legal everywhere – even in places where salt softeners are banned​​.
Simple Maintenance
With the Cascadian ICS-SPK cartridge filter replacement kit, maintenance is a breeze. You'll only need to change filters once a year or more as required. Enjoy hassle-free, easy maintenance that keeps your water at its best without the stress​​.
Convenient Filter Subscription
Kickstart your journey to better water with our convenient filter subscriptions. Purchase your first replacement filters a year after setting up your system and select the subscription option to save time and 10% off and get free shipping. Enjoy continuous clean water without the need for constant reordering​.
Ready to transform your water experience? Purchase your Cascadian ICS-SPK cartridge filter replacement kit today!
See product specifications below for more details
Rely on our expertise to deliver the simplest water treatment
Legal Everywhere

Our filters can be used where salt softeners are banned

Easy Maintenance

Change filters once or more per year

60 Day Guarantee

Return it, not questions asked
Filter Subscriptions

Purchase your first replacement filters after a year with your system and select the subscription option to save time and 10% off.

Filter Subscription

Product Specification

Each product has specific capabilities and unfortunately can't treat every type of water. Find details on the specification.

Specifications
FAQs
Where does ICS go in my Home?

Where it can fit, and where it can easily get access to your home's water source. This is typically a garage, crawlspace, or even a closet. If you have questions a plumber would be able to help you find the best spot. During maintenance you'll need to fit a bucket and have enough space to turn the sump wrench which comes with your system.
How often do I replace the filters?

Most people replace their filters once per year, or sooner if they start seeing issues with their water again. Learn about water issues here
What is the return policy?

If you are unsatisfied within 60 days of purchase, return the housing and we'll refund your purchase no questions asked.
How fast do you ship?

We typically ship same business day if the order is placed before 2 pm PST using UPS ground.
Does this include housing o-rings?

No, the replacement kits do not come with o-rings.
Can't live without this filter
This filter works great and lasts a year for us. We have good well water but it has a small amount of fine brown sediment that stains everything from white clothes to toilets. This filter pays for itself by saving our stuff from staining. I'm glad our contractor recommended it.
Hi B Stevens, Thank you for sharing your experience with the ICS-SPK Replacement Water Filter. It's fantastic to hear that it's been instrumental in preserving the quality of your belongings and preventing staining. We're grateful for your contractor's recommendation and your trust in our product. Here's to many more years of clean, sediment-free water! Your Cascadian Team.
Filter
Easy to install. Easy renewals for yearly delivery.
Thank you so much, Tallie! We're thrilled to hear that you found the installation process straightforward and the renewals hassle-free. Your feedback is appreciated, and we're here to help with any future needs. Cheers!
Been using this system for a couple years. I prefer it over the water softeners and having to buy and refill salt.